Automatic labeling systems may run into occasional problems. The labeler is typically the equipment that either fully automatically applies a label or semi-auto applies a label. A customer may have an issue where the label is not applying properly, which is typically either a problem with the label printer or the piece of application equipment. Either way, Apogee Industries are experts at solving these issues.
Here are some typical problems with automatic label application. For these types of issues we look at the following adjustments and solutions:
Problem – Liner tears during application:
The peel tip on the applicator might need to be replaced or repaired; or it might need UHMW tape (Ultra High Molecular Weight). This is like Teflon Tape only more slippery. It could also be very minute tears on the side of the paper liner which is caused at the label plant. A good sales rep should spot the differences.
Problem – Label follows Peel Tip during application :
If this occurs then possible solutions are: The tension on the applicator might be too low or the applicator is improperly webbed. Additionally, the die strikes from the label plant may be bad; have your sales rep check this and ask if the label plant is using measuring gauges on press to monitor this issue. Adhesive coat weights or adhesive voids could be another cause. Again an experienced label representative should be able to spot this.
Problem – Clear Label won't apply during application.
Many applicators use a dark/light sensor to sense the gap between the labels. The first solution is to have your label printer print a black timing (or eye) mark on the backside if the liner. You can also switch to an ultrasonic sensor which sends out sound waves to measure the label gap.
Problem – Die Strikes
Die strikes are usually the most common problem with auto application and are the responsibility of your label plant.
The tooling used to die cut labels is very precise, however the tooling will wear out over time
Tooling can be repaired and re-sharpened and replaced
Use die gauges on press to determine if they are wearing out
Ask the label vendor about tooling to ensure a quality label and application
Apogee Industries Inc. is an exclusive source and supplier for pressure sensitive labels and a distributor for labeling equipment and label printers. The company also sells product handling equipment that is often needed for most applications. Typical machine types:
Semi-Automatic Machines – The product handler is a person
Fully automatic machines – The product handling is either a combination of person and machine or exclusively a machine.
Most common product handling machinery is conveyor systems that carry the product along to the label applicator then often orient the package to the correct position just before the applicator.
The company has extensive experience with automatic labeling equipment and is a primary distributor for CTM Labelers and. Apogee provides:
Equipment Sales & Service
Installation & repairs
Parts & consulting
Rental machines
Equipment troubleshooting
Parts & consulting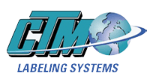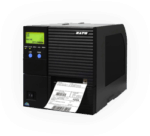 Apogee Industries serves multiple industries and applications:
Beverage
Dairy
Food
Chemical
Pharmaceutical
Health & Beauty (Cosmetic)
Contract Packagers
Machine Integrators